Find out why Kloofzicht Lodge is regarded as the hottest "peri-urban" fly fishing destination
Posted on Thu April 2, 2020.
Fly fisherman are an interesting bunch and although normally down to earth they are particular about the setting of the location being fished and the quality of the quarry that they will be pitting their skills against. The fishing managed by Sundowner Flyfishing Adventures ticks all these boxes and more...
The change of season in Gauteng is evident if you compare the weather that we had where you were sporting a tee-shirt at end of February and now the overcast conditions require at least a light jersey to keep the body comfortable. Not everyone enjoys the cooler weather however there is one group of people who are keenly observing the days growing shorter, nights getting stretching longer and the temperatures dropping in anticipation of there favorite past time..
These people would be no other than the lesser spotted trout fisher who often hold desk jobs for no other reason than to fund their fishing habit. Fortunately over the last few years there has been more budget available for this habit as a number of quality fly fishing venues have been established in the region known as the cradle of humankind world heritage site. This region is only 45 minutes drive from the sprawling metropolis of Johannesburg (North, East, South & West) and Pretoria so does not require the additional expense of driving to the traditional fly fishing areas in Mpumulanga, KZN midlands and Lesotho.
There are a variety of sport and fly fishing venues in the cradle (Muldersdrift, Kromdraai, Lanseria and Magaliesburg) which offer a variety of different fishing access options. The only option however which is strictly catch & release, limited day fishers and is located on a five star lodge is Kloofzicht Lodge and Spa.
It was a blessing to get an opportunity to partner with Kloofzicht Lodge almost ten years years ago and manage all the fishing activities. The owners and management trusted us to allow day fishing visitors onto the property when the norm is for a five star lodge to only allow fishing access to in house residents. The processes and controls have worked well and day visitors and residents alike enjoy the benefits realized from the arrangement.
So what if we have a venue that offers some comfort stands and is eco-friendly? There has to be some sparkles of magic that will keep regulars coming back year after year and new fishers spreading word of mouth like wild fire. The answer would have to revolve around four things:
1) The fish. Most fisherman say that "a bad day fishing is better than a good day in the office" or "at least I caught something even if it it just live bait". However the majority of fisherman (some secretly and some not so secretly) would like to land a fish that they can either say is a personal best because of size or a species that is a "bucket list" specimen. The Kloofzicht trout offer tick both of these boxes. Our trout stocking programme involves regular above average and trophy size Rainbow and Brown trout from beginning to end of the winter season. The stocked trout trigger a response from the wintered (previous season) fish to feed more actively. There is a very good reason why you will find many regulars rigging up leaders and tippets with 10-12 pound mono. The trout range from 900g and can reach up to 4 kg and the take is violent enough to snap lighter tippets and leave a burning line burn on your stripping finger.
2) The culture. Fly fishing is a social activity which can be enjoyed solo or while interacting with fellow men and women with common interests. As a result fly fishing is a great leveller and means of cutting through divides. At Kloofzicht Lodge the majority of fishing guests are considerate about the rules which are mainly meant to protect the fish (but also helps with keeping the peace with fishers). There is something dynamic about the friendly relationships that develop between fellow fishers and the SFA guides/bailiffs who are on duty the majority of time to assist, offer a friendly tip or word of advice to fishing guests.
3) The location. Our senses play a huge role in the way that we process how we enjoy our environment. The natural setting and activities that one if surrounded with at Kloofzicht Lodge can only inspire the senses. Sound of the hot air balloon rising in the morning, swish of fly lines slicing through the air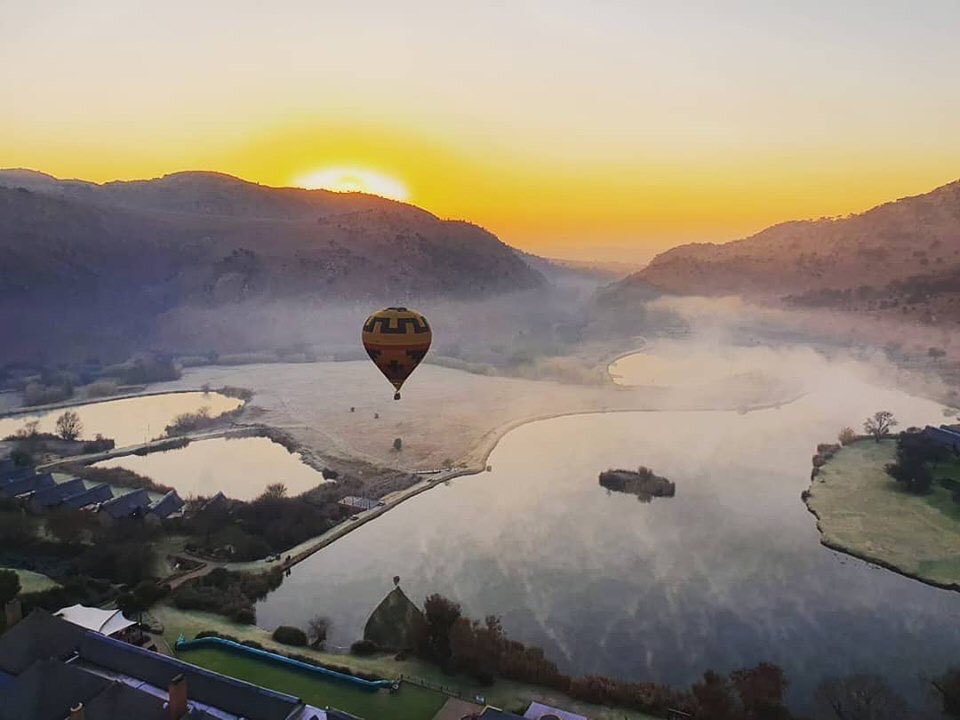 or eery cry of a  fish eagle. Smell of fresh air in the country. View of the mist rising off the water on a crisp morning as the sun rises through the gap in the Swartkops mountains.
4) We listen. We are blessed with many experienced fly fishers who over the years have shared ideas of what they feel would make Kloofzicht Lodge a better fishery or offered advice to bailifs and fellow fishers which then ends up being shared with other fishers. This results in the level of theoretical and practical knowledge plus fly fishing etiquette  growing considerably and the sport wins. 
I am sure that the COVID-19 virus has had a negative impact on our economy (especially tourism) and left most people confined to their homes however on a positive side it will give provide opportunity to research and polish up on your fly fishing theory plus allow the fish to reset and become more fly tame after not seeing any fisherman for the duration of the lock down in South Africa.
Here is to hoping that you all are healthy and safe over this time and looking forward to another bumper winter trout fishing season.
Author - Wayne Sinclair (Owner Sundowner Fly fishing Adventures)